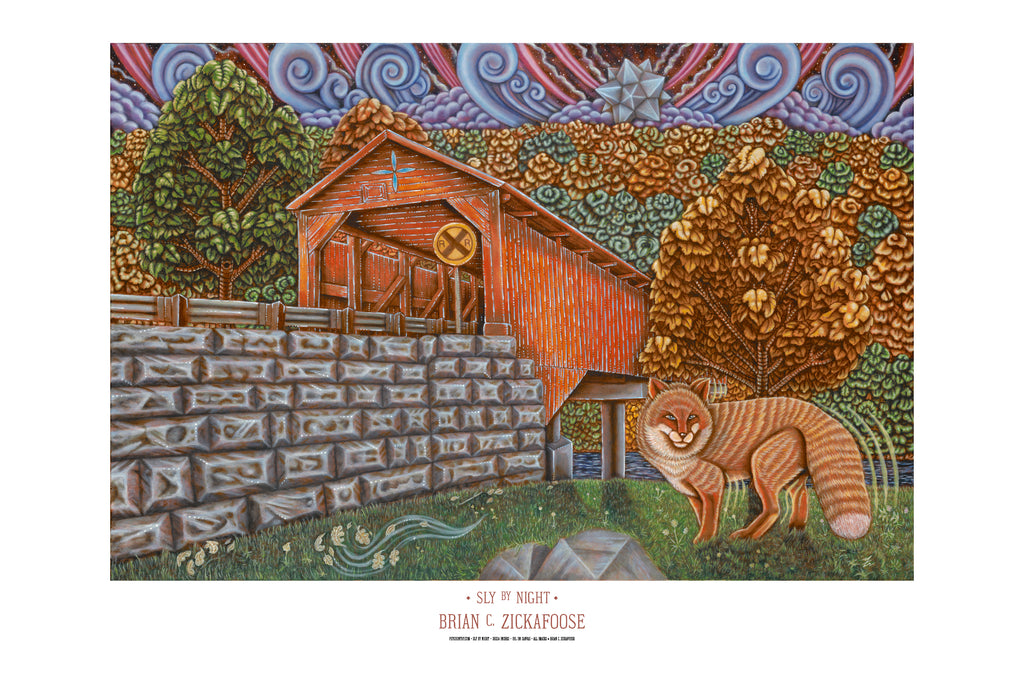 Sly by Night 36x24 Inch Poster
Level up your space with this large-size poster of the painting Sly by Night by artist, Brian C. Zickafoose.
36"x24" Inch on 12 pt. Matte-finish open edition Poster
Unsigned $35.00
Signed $50.00
About the Art:
"Sly By Night" is a captivating masterpiece by Brian Christopher Zickafoose, measuring 36" x 24" x 2" and created with oil on canvas in 2019. Infused with over 150 hours of dedicated craftsmanship, this artwork unfolds a serene scene under a moonlit sky.

As a gentle autumn breeze rustles leaves from the trees, stars twinkle above while a plump fox quietly graces the shadowy banks of the Buckhannon River by a covered bridge. The moon makes its first appearance over the ridge, casting a tranquil glow. This painting pays homage to the charming covered bridges of a bygone era, capturing the essence of a quiet and magical night.

Your appreciation for the enchanting "Sly By Night" is valued. Thank you for taking a moment to explore and enjoy this evocative piece.